2005 International Day of Action
for Smokefree Movies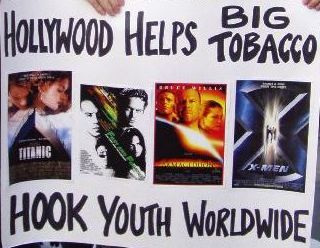 Summary of Events Around the World

On February 22, 2005, groups around the U.S. and world -- from Argentina to India, New Zealand to Senegal -- participated in the first International Day of Action for smokefree movies. Activities included film screenings, press conferences, letter campaigns, exhibits, discussions, and demonstrations. While the focus of the day was on Hollywood, many groups used the opportunity to put pressure on the movie industries in their own countries, e.g. India, Nigeria, Sri Lanka. Below is a full report on events that groups involved with GPTC organized in different countries, complete with photos and examples of press coverage. Thanks to all who took part!
SUMMARY OF CONTENTS:

1. ARGENTINA: Press & Radio Coverage
2. INDIA (Mumbai): Press Coverage
3. INDIA (New Delhi): Letter Campaign
4. MALAYSIA: Press Conference and Petition Campaign
5. NEW ZEALAND: Release of Research Findings
6. NIGERIA (Ibadan): Exhibition, Forum, & Media Coverage
7. NIGERIA (Lagos): Press Coverage
8. SENEGAL: Film Screening & Radio Coverage
9. SRI LANKA: News Briefing w/ Actors
10. US (Overview): Mobile Billboards, Press Events, & Newspaper Ads
11. US (DC): Demonstration in Front of the MPAA
12. US: Philip Morris USA Responds
1) ARGENTINA: PRESS & RADIO COVERAGE
Here's an article about the International Day of Action (featuring a picture of Brad Pitt smoking) that was published by an important
newspaper in Bahia Blanca.
A message about the International Day of Action was also sent to the following tobacco networks: CLACCTA (Latin America), Tabacozero (Brazil), Vivirsintabaco (Argentina), as well as ten radio stations in Bahia Blanca, two of which made a report.

-- Gabriela Regueira, Asociacion Argentina de Educacion y Prevencion del Cancer

2) INDIA (Mumbai): PRESS COVERAGE
After some back and forth, we got a great cover story -- a series actually. The first started with a visit by Prof Stan Glantz (Smokefree Movies Action Network) to Mumbai leading up to the International Day of Action and a second focused on our research of recent Bollywood films. See articles: 1, 2
-- Padmini Somani, Salaam Bombay Foundation

3) INDIA (New Delhi): LETTER CAMPAIGN
Here is a press release we distributed for the International Day of Action, as well as a letter we sent to the Central Board of Film Certification to mark the day.

-- Monika Arora, HRIDAY-SHAN

4) MALAYSIA: PRESS CONFERENCE & PETITION CAMPAIGN
C-Tob held a press conference yesterday with Prof. Rahmat Awang and his deputy Mr Razak Lajis. Mr Razak is known for his activities for youth and his presence really lended a major support in the press conference.
Prof. Awang explained about the International Day of Action held in line with the nearing 77th Academy Awards on February 27, 2005. He expressed his dissatisfaction that many movies had cigarette smoking scenes. He added that perhaps officers in the information department may not be aware of the impact smoking can have on viewers.
In relation to that and to provide a local touch to the story, Prof. Awang said on behalf of Malaysia, C-Tob will undertake a signature campaign to the National Censorship Board and the National Film Development Corporation Malaysia (FINAS) to implement the blurring of cigarettes in all movies. This idea was mooted after Thailand's successful implementation in that direction. See press release.
We also distributed a factsheet on health related to smoking.

Apart from this, we presented the video clip of interviews with youth around the world. The reporters were impressed and commended us on the video clip. We also showed a PowerPoint presentation of the smoking scenes of the movie industry, e.g. smoking idols like Michael Landon and Sylvester Stallone, as well as Malaysian movie icon. View presentation (5.4 MB)
And lastly, we used a visual prop, a movie clap board, during the photography session:

We are now carrying out a petition campaign to submit to the National Censorship Board and National Film Development Corporation Malaysia (FINAS) so that they will block all smoking scenes, be it from Hollywood, Bollywood or Chinese. Over 200 signatures have been collected so far.
Here's some of the excellent press coverage we generated:
-- Kalei Joethi Sahadevan, Clearinghouse for Tobacco Control (C-Tob)National Poison Centre, Universiti Sains Malaysia, Penang.

5) NEW ZEALAND: RELEASE OF RESEARCH FINDINGS
We at ASH New Zealand promoted the event by sending information to the press about the International Day of Action. The press release we sent was titled, "Hollywood must take more responsibility in creating healthy kiwi teens." Our director Becky Freeman did two interviews on radio (Radio New Zealand's Morning report and NIU FM). We also got coverage in the print media. View press release.

We tied the International Day of Action with informing about the research ASH NZ did in conjunction with the University of Auckland that recommended screening of anti-smoking advertisements should be screened before movies to counter smoking promotion in movies. View research summary
-- Sneha Paul, Action on Smoking and Health (ASH) New Zealand

6) NIGERIA (Ibadan): EXHIBITION, FORUM, & MEDIA COVERAGE
Educare Trust youth on Tuesday February 22, 2005 joined the global fight against Hollywood movies pushing tobacco. The International Day of Action was marked by the youth with three major activities:
1. EXHIBITION: This was opened to the general public between 10:00 am and 4:00 pm. The exhibits were posters, leaflets, two 'Dummy Long' Cigarettes and an environmental giant sculpture (10 feet tall and made of 250 empty plastic bottles). Materials, on the theme, made available by Essential Action were printed, photocopied and freely distributed to the visitors and participants. The participants, totaling 24, included representatives of the media, members of the Association of Nigerian Authors, Oyo State Chapter and Educare Trust youth members. The exhibition took place at Educare Trust Exhibition Centre. View photos: 1, 2, 3

2. PRESS RELEASE: Copies of the Press Release were given to eight media houses in Ibadan, Oyo State, Nigeria, including 4 radio and television outlets, and 4 print media. Some of the media houses challenged tobacco control advocates to organize a similar event focused on Nollywood (Nigerian version of Hollywood). Nigerian Television Authority (NTA), Ibadan and Galaxy Television Oke-Are, Ibadan read the Release as part of their news items on that day. And on February 28, 2005, The Punch Newspaper published the Release (edited) under this caption: ANTI-TOBACCO CAMPAIGNERS TARGET MEDIA, MOVIE OPERATORS.
3. DISCUSSION: The topic of this discussion, which was participatory in nature, was "The Impact of Tobacco Smoking in Movies to the Youth." The discussion drew its analysis from both Hollywood and Nollywood. The data supplied by Essential Action was helpful. It aided the flow of the discussion. It was unanimously agreed by the discussants that the Nigerian child just like his/her counterparts all over the world likes watching movies. He or she would like to imbibe any doctrine or behaviour such movies are set out to teach, most especially if such doctrine or behaviour is being perpetrated by star actors or actresses like Clint Eastwood, Sylvester Stallone, Sharon Stone etc from Hollywood and Richard Mofe Damijo, Saint Obi and Genevieve Nnaji etc from Nollywood. The discussants totally condemned Tobacco Advertisement in any form or by any means in movies be it in Hollywood or in Nollywood. The discussion considered it as an act of social irresponsibility for any producer to advertise a dangerous habit to the youth using movies. View photo

-- Folorunsho Moshood, Educare Trust

7) NIGERIA (Lagos): PRESS COVERAGE
We issued a press statement. It was used by the Daily Independent. The Guardian also ran a story:

-- Akinbode Oluwafemi, Environmental Rights Action/Friends of the Earth, Nigeria

8) SENEGAL: FILM SCREENING & RADIO COVERAGE
On February 23, we held a screening of the movie "Die Another Day" for 200 youth at the Serigne Ameth Sy Malick school. The event was used to raise awareness of smoking in Hollywood movies (the movie, which is youth-rated by the Motion Picture Association of America, has a "black lung" rating from SceneSmoking.org for 50+ smoking incidents, involving 6 different actors/actresses including star Pierce Brosnan).
A press release was sent to over a dozen print and radio media outlets. We got excellent radio coverage of the event thanks to Radio Future Media (RFM). They gave us an interview, made a report on tobacco in general, and did a half hour segment on their talkshow "Waax xaa xalaat ou Caddu Askan Wi" (Wolof) ["La parole aux auditeurs" in French]. Seventeen people called in from all over the world, including France, U.S., Italy, and Senegal (Dakar & Koalack)
-- Pascal Didier Mandiamy, Mouvement Anti-Tabac du Senegal

9) SRI LANKA: NEWS BRIEFING W/ ACTORS & PRESS COVERAGE
A news briefing on tobacco promotions through films and tele dramas was held on February 22 at the Government Information Department, in Colombo. The event was organized by the Alcohol & Drug Information Centre (ADIC). Eight people involved with the film/tele industry participated. Some of the media conference's objectives:
To get movie makers to take up the problem seriously.
To stimulate a debate within Sri Lanka film industry.
To encourage the removal of scenes that depict smoking in films as much as possible.
Mr. Ravindra Randeniya, actor and film director said: "Even after giving up of smoking, at times I had to use cigarettes to play my roles in certain films. But now I never use it to portray even a character. I did not know that portrayal of smoking scenes in films was a subtle strategy behind the industry=85I promise that I will never use cigarettes even in films to portray a character. Also I will give my fullest cooperation to carry out this mission."
Another actor, Buddhadasa Vithanachchi, said, "In the past people used to smoke even in public transport. I got used to smoking having had watched cartoons - Cowboy. From 15 to 30 years I smoked, but I stopped smoking 30 years ago. Even after quitting smoking I have appeared for a few portrayals of smoking. But now I reject such portrayals." Read more
Article about the International Day of Action

-- Manjari Peiris, journalist
Here is a report (with photos) on our activities for the International Day of Action for tobaccofree movies. This activity was a continuation of the activities we have carried out on the issue during the last 4
years.
-- Kumari, Alcohol and Drug Information Center

10) US (Overview): MOBILE BILLBOARDS, PRESS EVENTS, & NEWSPAPER ADS
Across the U.S., Smokefree Movies Action Network members held dozens of press events and ran "The Whole World is Watching" advertisements in a variety of media, including the New York Times.
In California, mobile billboards cruised Los Angeles for a week, showing up at the Oscars and Oscar events, outside movie studios, etc. See photos:1, 2

A photo of the mobile billboard in front of the Walt Disney studio is on the International Day of Action website:

In New Mexico, the New Mexico Media Literacy Project released a DVD called "Something Stinks in Hollywood"

The actions generated significant press, radio, and television coverage, including this Voice of America which mentions events in other countries.

11) US - DC: DEMONSTRATION IN FRONT OF MPAA
Essential Action organized a demonstration in front of the Motion Picture Association of America, which administers the movie rating system and has thus far refused to take smoking and tobacco product placement out of youth-rated films. Here are some photos of the event:
Throughout the event, local high school students led a variety of chants.
At the close of the event, local high school students tried to deliver a letter addressed to MPAA President Daniel Glickman and past President Jack Valenti (who still controls the rating system). They were blocked from entering the building by a man who treated them in an extremely rude manner. After a short period of negotiation, he agreed to deliver the letter for the youth.

Three AFP and 5 Getty Images photos of the International Day of Action event in front of the Motion Picture Association (DC). You can access them by going to http://www.gettyimages.com Click on "Editorial" then
"News". Do a search for "movies dc"
-- Anna White, Essential Action

13) US: PHILIP MORRIS RESPONDS
In response to all the media coverage around the International Day of Action, Philip Morris USA took it upon itself to issue a press release denying that it is involved in tobacco product placement in the movies. The release fails to address whether or not Philip Morris International is involved with the practice. In the informal survey of 800 youth worldwide, 51% said that they had seen Marlboro product placement in Hollywood movies. Marlboro product placement also appears to be rampant in non-Hollywood movies, such as the recent Bollywood hit "Swades."
Philip Morris USA Denies Requests for Product Placement (February 25, 2005)